Best Kontakt Libraries 2023: Orchestral, Strings, Drums & More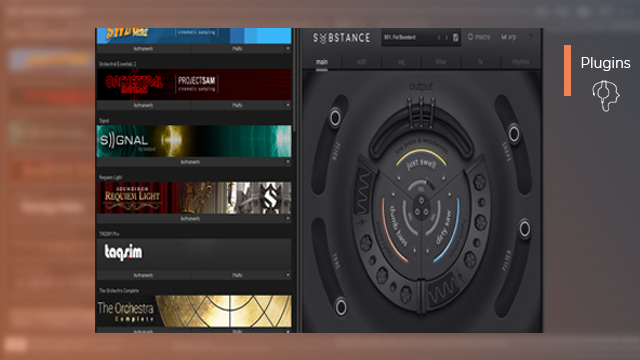 Native Instruments Kontakt is the industry standard library format for music production, film scoring, and instrumental sampling. It provides a universal infrastructure on which producers and development teams can build powerful and exhaustive virtual instruments.

While Kontakt itself is produced by Native Instruments, countless developers are releasing some of the best Kontakt libraries every year, which can make it hard to sort the 'cream' from the 'crop'.
With that in mind, we decided to put together this resource on the best Kontakt libraries of 2023 to make things a little easier. Whether you're looking for vocal Kontakt libraries, orchestral libraries, the best Kontakt synths, or something else entirely, we've covered it all below.

Best Vocal Kontakt Libraries
Output Exhale is perhaps the most talked-about vocal effects plugin on the market. Developed by the same studio that brought us Substance, Signal, and Movement; Exhale has the satisfying and easy-to-use interface you would expect from any Output plugin. However, it's not just a pretty interface.
The Exhale Kontakt library isn't just a tool for creating realistic vocal melodies (though that's certainly well within its wheelhouse). With this plugin, you get to play with presets for drum and percussion sounds, SFX, and soundscapes with practically endless customization options at your fingertips.

Play by pitch in 'Note' mode, explore a vast array of loops or experiment with 'slices' for dynamic rhythmic chops. Needless to say, the sound design possibilities alone are sure to get your creative juices flowing.
Another plugin that offers more than just vocal 'instruments', Mosaic Voices is a one-stop-shop for vocal-inspired sound design.

The unique interface allows you to combine organic vocal recordings with synthesized vocal pads and unique sound design to create natural or surreal-sounding vocal layers beyond your wildest imagination.

Much like Exhale, the sound design opportunities are vast, but pads and emotive soundscapes are where this library comes into its own.
8Dio are one of the lesser-known music library studios on the market, but they actually offer some of the best Kontakt libraries available.

Insolidus Choir offers over 37,500 samples and almost 90 GB of expertly-recorded choral samples to drive up the suspense in your next composition.

Unlike Exhale and Mosaic Voices, Insolidus Choir is more specifically catered to creating authentic choral vocals, but it's something that it excels at.
Zero-G Ethera Gold Sahara Voices
If you're after something a little more exotic-feeling, Sahara Voices brings an outstanding middle-eastern inspired touch to your musical toolkit.

This is quite possibly the most impressive ethnic vocal sample collection available — perfect for when you want to bring a touch of the desert to a score or musical production.

If you're a fan of the exotic sound or a composer that frequently works on fantasy scores, this is an essential tool to have in your musical toolkit.
If you're looking for wonderfully ambient, spiritual, and emotive voice sounds- Heavyocity's Vocalise 3 is a great option.

This 7GB Kontakt bank was designed to push the boundaries of cinematic vocal production and offer you endless inspiration for your productions.
Best Orchestral Kontakt Libraries
The Symphobia collection by ProjectSAM takes the hard work out of impactful orchestral sound design.

With its easy-to-use interface and pre-produced ensemble multi-samples, it's easy to mix together instrument groups to complement your productions or create impressive standalone scores.
Symphobia gives you full control over articulation like sustain, staccato, tremolo, or crescendo movements, dynamic controls for adjusting your ADSR, and even a depth mixer for adjusting the mic distance between intimate performances and an impactful, large scale stage sound.
Native Instruments Arkhis
Akhis is a powerful cinematic orchestral library that combines orchestral samples for massively dynamic scores.

The unique mechanics of this plugin makes it one of the best orchestral Kontakt libraries by allowing you to layer up to three emotive instruments or ensembles that are introduced dynamically as you need to amp up the tension.

This combined with the powerful customization options for each layer results in fast emotive scoring that's perfect for games, cinema, and animation. That being said, it's a great tool for adding extra impact to your music production too.
Best Strings Kontakt Libraries
Spitfire Audio Studio Strings Professional
We've included Spitfire Audio's Studio Strings Professional library because it's arguably the most versatile string library available for Kontakt. It has something to offer regardless of if you're producing pop, rock, rap, or dance music; or writing emotive scores for film and cinema.
Recorded in the stunning yet intimate acoustics of the AIR Studio One in London, this library has plenty of options for technique, articulation, instrumentation, and microphone patterns for the best control and most immersive sound possible.

You'll be accentuating the unique ebb and flow of your compositions with beautiful string ensembles in no time at all.
Native Instruments Stradivari Violin
In this Native Instruments Kontakt Library, Antonio Stradivari's one-of-a-kind 'Vesuvius' violin — the pinnacle of string instruments — has been meticulously sampled in Italy's famous Giovanni Arvedi Auditorium for some of the world's only acoustics that could do such an instrument justice.

Access user-controlled finger positions, 20 articulation settings, legato transitions, and vibrato for realistic, expressive performances in real-time.
While Spitfire Audio's Studio String Professional has everything you need for emotive ensemble performances, Stradivari is at the apex of solo violin rendition. If you can stretch to it in your budget, combining these two plugins will elevate your compositions to a whole new level.
Best Drums Kontakt Libraries
TRIAZ's game-changing workflow provides a library of over 600 presets, as well as samples from 28 drum machines, 12 analog synths, countless acoustic drum kits, and a vast array of foley and other sources.

As you might expect, you also have the option to introduce your own custom samples, increasing the possible latitude of your drum kits even further.
Samples can be layered, tweaked, and processed to your heart's content, and even sequenced into dynamic, 32 step, groove-enhanced rhythms all within a single interface.

One of our favorite features of this library is how cross-compatible it is with other tools. You can easily export individual track stems, MIDI data, and more directly from the interface which is a nice touch.
Cinesamples Drums of War 2
While not the most recent library on the market, the second installation of Cinesamples' Drums of War drum libraries is still one of the most useful percussive kits available.

This is the ideal kit for accentuating your drums with dynamic and organic-sounding percussion or even creating rich, ethnic drum sequences for your next fantasy score.

Even when used as a subtle rhythmic addition to your productions, Drums of War 2 can add an immense level of production value to your end results.
Best Piano Kontakt Libraries
Spitfire Audio Hans Zimmer
Few among us haven't been left with chills from Hans Zimmer's emotive film scores. Working closely with Zimmer and his team, Spitfire Audio has managed to capture the grandest of grand piano sounds just as Hans Zimmer himself uses and packaged it up in this neat little Spitfire Hans Zimmer Piano Kontakt library.
Only the finest of piano, finest of acoustics, and finest of recording techniques could effectively capture and replicate the huge array of round robins, dynamic layers, and technical performance captured for this library.

Hans Zimmer's musical secret weapon available for you to incorporate into your own productions – what more could you ask for?
If you're looking for something a bit less cinematic and a little more classical, we'd recommend checking out the Native Instruments Noire library.

Like the Hans Zimmer library, Native Instruments did not hold back when striving for the greatest of piano sounds possible. Nils Frahm's famous concert grand was meticulously sampled in one of Berlin's most renowned acoustic spaces to bring this library to market — and its emotive and dynamic digital performances certainly don't disappoint.
Native Instruments Alicia's Keys
Designed in collaboration with the plugin's infamous namesake, the Alicia's Keys Kontakt library features 17 GB of sampled material from Alicia's very own custom Yamaha C3 Neo Grand Piano (one of only three in the world) — sampled expertly with the finest vintage gear and customizable with several powerful convolution reverbs, sympathetic resonance, and a built-in stereo spread function.

If you're producing anything that requires an air of contemporary soul or emotive jazziness to it, we'd highly recommend giving this library a try.
Best Synth Kontakt Libraries
This powerful bass engine by prolific sound makers Output has everything you need to create never-before-heard and floor-trembling basslines in Native Instruments Kontakt.

The Substance Kontakt VST gives you the power to combine hard-hitting subs with plucks, noise, instrumental sounds and even analog synths into something fresh, new, and perfect for your next track.

Rhythmic modulations, ADSR envelopes, and countless layer and global effects push the creative possibilities even further. We're certain you'll never be bored with this library in your toolkit.
REV is a beautiful Kontakt bank with powerful "reverse" sounds such as loops, swells, organic pads, and many other fascinating instruments.

This Kontakt library by Output comes with 1000+ Unique presets in a total of 14 GB of sounds.
The "world's most powerful pulse engine", Output Signal is a fantastic tool for emotive arps and obscure rhythmic patches.

Like many of Output's easy-to-use plugins, Signal comes with four macro controls to easily customize and articulate your patches on the go.

The Dual Pulse Engine allows you to combine 2 voices each with two rhythmic sequences through waveform, step sequencing, arpeggiation, or loops to create powerful and unique synths that will fill your productions with captivating, pulsating energy.
Output Analog Brass & Winds
Despite what the name might suggest, Output Brass & Winds is not just an instrumental library. This unique Kontakt plugin is capable of producing some of the rarest and most exciting synth patches you can imagine.

Blend analog synths and creative sound design with instrumental sampling to create, pads, wind, chime, and even bass effects.

Brass & Winds is the perfect tool for everything from Drum & Bass to Synthwave, Ambient, Hip Hop, Trap, or everything in between, and like all of Output's plugins, it's kitted out with an incredibly intuitive interface.
Best Guitar Kontakt Libraries
Native Instruments Session Guitarist - Electric Sunburst
If you're in the market for a library that can emulate the playing of a real guitarist, look no further than NI's Electric Sunburst.

This intuitive plugin has arguably the most versatile engine available allowing you to easily select and shift between chord sequences, chord variations, strumming and picking patterns in real-time.

This is the best guitar Kontakt library to supplement your productions with authentic guitar playing in no time at all.

You even have control over attributes like fret position, pickup mix, tuning precision, humanisation, and swing to get a bespoke and true-to-life performance for each and every track.
Native Instruments Scarbee Rickenbacker Bass
Looking for a realistic bass guitar Kontakt library? Few do it better than the Scarbee Rickenbacker Bass by Native Instruments.

Great for funky basslines when you need to emulate the classic sound of the iconic Rickenbacker bass — recorded on classic albums by the likes of the Beatles, Prince, Rush and The Jam.

Using this library gives you all the bells and whistles you could expect from playing bass live like pickup mixing, amp modelling, and tape distortion – plus, that sound — you can't beat it!
Best World Instrument Kontakt Libraries
Strezov Sampling JADE Ethnic Orchestra
Strezov Sampling has a unique proposition of assembling some of the most in-depth world music libraries available.

JADE Ethnic Orchestra lives up to this reputation as the largest library of Chinese instruments ever assembled. Over 100 instrument patches covering everything from percussion to strings, woodwind, ensembles, and even Mongolian vocal samples, this comprehensive Kontakt library has everything you need to bring a touch of the far east to your next song or soundtrack.
Strezov Sampling BALKAN Ethnic Orchestra
Sampled from an authentic orchestra from the Balkan Region in Europe, Strezov Sampling's BALKAN Ethnic Orchestra Kontakt library has got to be the most comprehensive Eastern European sampling library you'll find.

This Kontakt Library has been expertly captured with over 40 of the finest ethnic folklore soloists in the Balkans. BALKAN Ethnic Orchestra is a fantastic tool for immersing your listeners in the exotic sound of Eastern Europe or even for fantasy-inspired soundtracks for your next film or video game score.
*Affiliates Disclaimer: KnowsAudio is supported by advertising. We may earn an affiliate commission for any purchases made by you on the affiliate links.