25+ Best Mastering Plugins in 2023
Mastering can seem like a simple part of the production process. After all, you're working with one track instead of many, and most of the work should have been done already in the mixdown. However, how you master your track and picking the best mastering plugins for your project can have a huge impact on the success of your final release – there's a lot to consider.
In this article, we'll be breaking down the different types of plugins you should be using in your mastering process as well as some key recommendations of some of the best mastering plugins in each category. We'll also take some time to answer a few common questions about mastering at the end of the article.
With that said, let's begin by breaking down the best plugins for mastering.

Top Plugins for Mastering per Category
Here's our list of the best plugins for mastering in each category.
SSL Native Essentials Bundle
Solid State Logic has been developing high-end analogue consoles since the mid-eighties that have over the years gathered quite the reputation for clean, punchy, processing that's hard to compete with.
More recently, SSL branched out into creating digital emulations of their renowned flagship hardware, and in the SSL Native Essentials Bundle, you get access to two of the most sought-after of these plugins.
The SSL Channel Strip 2 perfectly emulates a classic SSL 9000K SuperAnalogue large-format console with a four-band parametric EQ, filter, compressor, and expander/gate that nail that clean, analog sound we've come to expect from SSL hardware.
The Elevate Mastering Bundle features three cleverly-designed plugins that put a real emphasis on a part of audio that is often overlooked – the human ear.
This suite uses tools that break down your master into 26 specially-tuned frequency bands that reflect how the human ear hears audio and allows you to process each of these bands independently. This results in powerful EQ, compression, and spectral clipping gates, that provide punchy dynamics with minimal artefacts and distortion.
NUGEN Audio Modern Mastering Bundle
The NUGEN Audio Modern Mastering Bundle consists of three extremely useful mastering tools that offer features you can't often find in other plugin suites.
MasterCheck is the standout tool in this three-piece bundle for its ability to perform mastering diagnostics, allowing you to identify potential issues that might arise on various platforms before you submit your mastered track to publishers.
The bundle also includes NUGEN Audio's ISLst plugin – a true peak limiter that you can apply to your master bus to ensure that no distortion arises as a result of codec conversion, and Visualizer – a powerful visualisation tool that's indispensable to a solid mastering workflow.
Few enter the music production space without hearing the name FabFilter, and for good reason. The FabFilter Total Bundle is one of the most extensive mastering plugin bundles on the market with 14 of their most popular plugins included.
In this bundle, you get access to FabFilter compressors and multiband compressors, limiters, EQ, dynamic shapers, de-essers, expanders, gates, saturation and distortion tools, and even some more creative effects like tape delay emulation, synthesizers, and filter plugins.
Ozone 9 Advanced is one of the industry's most-used mastering plugins because it's reliable, easy to use, and does everything you need in a mastering chain in one, easy-to-use interface.
As of Ozone 9 Advanced, you have access to AI-powered mastering tools that adapt to the track in real-time to minimize clipping and other distortion. A useful 'master assistant' is also now part of the suite which can help you make technical decisions based on your mastering objectives.
Ozone comes with over 10 mastering modules including powerful EQ, compression, limiting, stereo shaping, excitation, and spectral shaping. You can also use the AI-powered 'Master Rebalance' module to make retroactive adjustments to instrument levels in the mix directly from the mastering stage.
Fitted with countless, intuitive metering and visualisation tools, plenty of multi-band processing capabilities, vintage emulations, and the ability to preview different codec formats straight from the interface, there's little more you could ask for in a mastering plugin bundle.
Best Mastering EQ Plugins
Chandler Limited Curve Bender
A high-end mastering EQ based on a legendary piece of kit you're only likely to see in the most prolific mastering engineer's suite.
The Chandler Limited Curve Bender Mastering EQ is an exact emulation of the vintage EMI TG12345 desk used in Abbey Road Studios. That's right, the hardware this plugin is based on was used in the production of iconic albums like Pink Floyd's Dark Side of the Moon and The Beatles' Abbey Road.
A solid entry from Solid State Logic, the SSL Native X-EQ 2 combines every feature you'd possibly need in a mastering EQ with a streamlined code that's extremely light on CPU. While the EQ is designed to emulate the characteristic sound of old parallel passive EQ circuits with its X-EQ parallel mode, it's packed full of sophisticated features.
This EQ uses a 24-band parametric EQ with 17 different curve types to ensure you have the optimum flexibility for shaping your master. Clever 'anti-cramping algorithms' also maintain a transparent sound even with heavy EQing.
This EQ plugin is based on the highly sought-after Sony OXF-R3 digital console which typically sells for upwards of $1,000,000 per unit and is known for its crisp, transparent, and musical-sounding processing.
The same circuits have been expertly emulated in this plugin to produce an EQ that you'll find yourself reaching for time and time again.
If you're looking for a mastering EQ with ease of use at the heart of its design philosophy, look no further than the FabFilter Pro-Q 3.
The Pro-Q 3 is a powerful linear-phase EQ with zero latency, natural phase modes to produce the clearest filtering possible. If you ever feel like dabbling in film mastering, the Pro-Q 3 also offers support for full surround sound.
The Soundtheory Gullfoss is not your typical EQ. It's what Soundtheory describe as an 'intelligent, automatic equalizer' which automatically detects which parts of the spectrum need addressing and allows you to make changes in a more straightforward – yet still very controlled – way.
This is absolutely the best EQ for mastering if you want to achieve solid masters but your technical knowledge is still developing.
UAD Manley Massive Passive
The UAD Manley Massive Passive also operates differently from other EQ plugins but offers some stellar processing under the slightly unusually-set-out interface (which is easy to get used to once you've played around with it a little). The Massive Passive does not have a spectrum analyzer or any other typical metering interface like you'd find on other EQs, but that's not necessarily a bad thing, as it allows you to focus more on the sound you're getting out of the plugin.
Best Mastering Compressors
SSL Native Bus Compressor 2
Based on the beautifully-designed compressor you'd find at the centre of the renowned SSL G-Series Analogue console, the SSL Native Bus Compressor 2 offers clear, crisp, punchy compression that retains plenty of the original dynamic character of the sounds you pass through it. This plugin is unsurprisingly an iteration on the original SSL Native Bus Compressor that offers a few new bells and whistles including new attack, release, and compression ratios and switchable 2x and 4x oversampling.
The FabFilter Pro-MB works a little differently from other multiband compressors you'd find on the market. Instead of asking you to define crossover frequencies (or giving you crossovers you can't even change), this plugin allows you to set 6 completely independent, unrestricted frequency bands. This is pretty innovative stuff, but if you want to do things the old-fashioned way, you also have the option to 'snap' bands together to create traditional crossovers.
Created by Grammy-nominated mixing engineer and producer Dana Nielsen – the Pro-MB has a MIDI learn feature as well as smart parameter interpolation and intelligent attack release curves which help to create smoother, more natural-sounding processing.
Our favourite feature of the SSL Native X-Comp is its handy Max Gain Reduction option – which should be an option in more compressors. This works kind of like a reverse limiter (or something like that) to make sure the gain reduction produced by the compressor never goes over a certain amount, no matter how hard it's pushed. Even ignoring this super useful feature, the Native X-Comp has a ton of useful functionality like a graphical knee control (no more trying to just 'hear' the difference when you change knee settings), OPTO, FET, and Vari Mu compression-style options, and lots of built-in metering.
Waves PuigChild Compressor
Waves produced the PuigChild Compressor with the help of Jack Joseph Puig – who has worked with artists like Rolling Stones, Black Eyed Peas, Lady Gaga, U2, Weezer, and John Mayer, to name a few. The PuigChild is modelled on Jack's very own custom unit of the Fairchild 670 — a well-revered unit originally built on the request of music legend Les Paul (yes, that Les Paul). The PuigChild can be quite CPU-heavy, but that's reasonable considering the clever processing it's attempting to do and the unrivalled compression quality you get as a result.
Shadow Hills Mastering Compressor
The Shadow Hills Mastering Compressor offers features you simply won't find in other plugins. This neat compressor uses two separate compression stages to refine your dynamics including an optical compressor for softer, cleaner, more forgiving compression, followed by a more aggressive 'discrete' compressor which can tame some of the harsher dynamics. Two compressors are better than one, after all.
The Shadow Hills Mastering Compressor can also add some really interesting colour to your masters based on the variable transformer settings available in the plugin that emulate different transformer materials you'd find in a comparable hardware unit. It has four easily-switchable preset settings that you can use to store and recall settings on a whim – great if you're trialling a few different compression setups at once.
Few plugin developers are more renowned in the industry than Waves. Anyone who has dabbled with their plugins at some point or another can attest to the quality they're built to, and few plugins meet that reputation more than their flagship limiter – the L2 Ultramaximizer.
The L2 is known for its highly transparent processing and is trusted by mixing and mastering engineers worldwide. This is a plugin that's been designed for ultimate precision and reliability with the utmost technical specifications like true peak limiting, a 9th-order noise shaping filter, and double-precision bit re-quantization.
Another powerful true-peak limiter that's trusted by industry professionals, the Oxford Limiter V3 uses highly-precise metering to identify and correct otherwise undetectable overloads and artefacts.
While it's known for its highly-transparent sound, you can also quite easily use this limiter for harsher, creative effects.
One thing that is often overlooked in mastering products is how their outputs relate to industry standards.
The FabFilter Pro L-2 includes loudness metering support for a range of industry standards including EBU R128, ITU-R BS.1770-4, and ATSC A/85. On top of this, it's also a fantastically capable limiter with eight different limiting algorithms all capable of true peak limiting and even an option for DC offset filtering.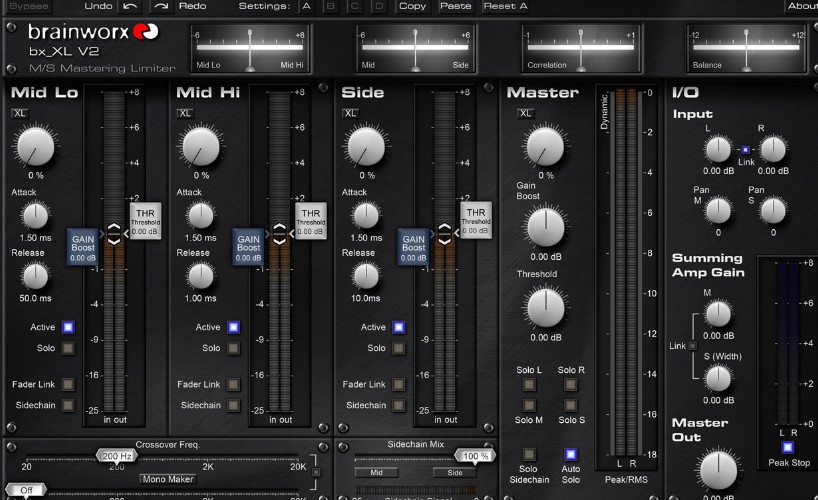 The thing we like best about this limiter is that it allows you to split your processing into three distinct channels: side, mid (low), and mid (high). This kind of processing makes total sense when you think about the differences in dynamics between these three areas of a master, yet we're yet to see the same functionality applied in other plugins.
That being said, the unique processing channels aren't all that the Brainworx BX XL V2 has to offer, as it also features some very impressive excitation features in the XL knobs (which add third and fifth-order harmonics) and a special filter that prevents aliasing artefacts in your final master.
Chandler Limited Zener Limiter
An eye-to-eye emulation of the hardware limiter of the same name – which was designed based on the vintage EMI circuits used to record The Beatles' and Pink Floyd's most iconic albums.
This authentic emulation adds the unmistakable warmth of Zener diode technology as it processes and can tame high-frequency transients without losing energy in the low end.
The Leapwing Audio DynOne is a 'Smart Parallel Multi-band Dynamics Processor' that is the best mastering compressor to bring out some of the quieter parts of your track without negatively impacting the overall dynamics.
DynOne comes with 5 preset bands with adjustable frequency crossovers in a simplistic, easy-to-use interface. Leapwing didn't want to compromise with unwanted compression artefacts you'd find in other dynamic processors, so they crafted a unique weighting algorithm to make sure your final output is as clear and transparent as it can be.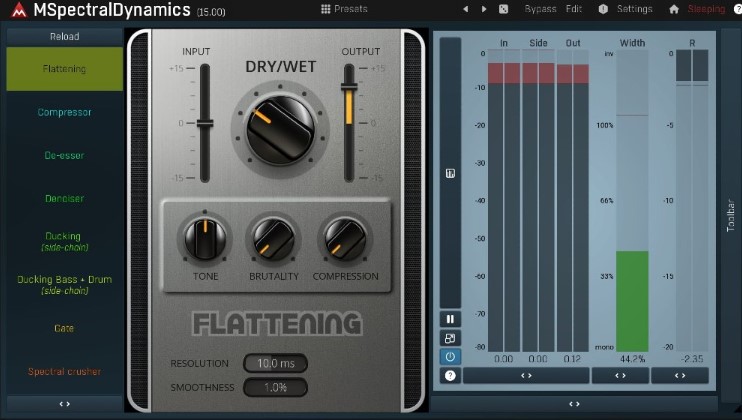 MSpectralDynamics is an all-in-one tool for dynamic processing. It works great as both a part of the mastering process and the mixing process and has capabilities including de-essing, sidechaining, gating, spectral crushing, and the ability to 'flatten' the frequency spectrum to achieve similar results as you'd expect from a match EQ plugin.
If you want to rely on the technical excellence of Waves mastering plugins, but want something with a more vintage feel, we'd recommend taking a look at the Waves API 2500 which models vintage compressors and has that classic vintage interface you'd expect complete with vintage gain reduction meters.
Despite the vintage feel, this plugin is equipped with handy features like an auto-makeup gain setting and the ability to split the stereo processing into dual mono channels via a single compression setting.
The standout feature of the SSL DeEss is its clever 'Relative Threshold Algorithm' which allows changes to the input level without any destructive effect on the de-essing, allowing you to process smaller areas of sibilance just as effectively as larger ones. The SSL DeEss also has mid-side targeting, oversampling, and lookahead options which can be toggled for the most accurate and authentic results.
FabFilter's Pro-DS uses an intelligent 'Single Vocal Detection' algorithm to accurately identify sibilance in the vocals and provide the necessary attenuation for a clean, transparent result. You can also use the built-in lookahead function to look ahead by up to 15ms for better results.
As well as typical vocal-style de-essing, the Pro-DS can also be used in 'Allround mode' for high-frequency limiting of your master track — a technique which can be used to reduce ear fatigue and increase the overall clarity and dynamic consistency in your track.
The Oxford SuprEsser has two modes: 'Simple Mode' — for quick fixes, and 'Advanced Mode' — for more advanced processing. Both modes utilize Oxford's award-winning linear-phase dynamic EQ technology which helps achieve clear, transparent results in your final master.
This powerful de-esser also features a useful Auto Level Tracking feature which can follow the input level and apply the same relative gain reduction as the signal level changes.
Best Audio Metering Plugin
Hands-down our favourite mastering plugin has to be the Nugen MasterCheck Pro (also part of the Nugen Audio Mastering Bundle). The reason being is that an often-overlooked part of the mastering process is how your mastered track will perform when converted to industry formats necessary for popular listening platforms.

MasterCheck automatically checks for problems that will arise when encoding for Spotify, YouTube, CD, etc and flags issues with data compression, loudness matching, or artefacts introduced by the encoding process. In our opinion, no mastering engineer's toolkit is complete without a copy of this plugin.
What Plugins to Use for Mastering?
Equalizers or 'EQ' are one of the most important tools in a mastering toolkit. Using EQ to shape the frequencies of your master makes the music clearer and easier to listen to and prepares it for listening on a variety of different mediums and devices.
Compressors help to maximize the dynamic range of your track in a natural way that introduces minimal distortion. Together with limiters, compressors can help you achieve the necessary loudness for radio or streaming services.
Limiters – like compressors – help to maximize the dynamic range and stop any unwanted distortion making its way into your final mastered track. Of all the mastering plugins you can use, limiters are arguably the most essential.
Here's an article we wrote recently on limiters: we explained how do they work, and why they're crucial to the mastering process.
Stereo imaging plugins allow you to introduce a wider stereo image to your final master, providing a fuller, more immersive experience to the listener. Of course, it's best to plan a mix that makes good use of all of that stereo real estate from the start, but a little light enhancement in the mastering stage can go a long way.
Dynamic processing is a looser term we use to define anything that affects the dynamics (i.e. loudness or volume) of a track. This includes compressors and limiters, but also things like noise gates, expanders, transient shapers, etc. You can use dynamic processors in the mastering process to emphasise the impact of drum hits, clarify vocals or other instruments, and bring up the quieter aspects of your mix in the master.
If you're not an experienced mastering engineer, sibilance (the harsh 's', 'sh', or 'f' sounds you often hear in vocals) can quite easily sneak by your ears undetected and leave your final master sounding a little off or uncomfortable to listen to. Using a good De-Esser in your mastering chain is a fantastic way to mitigate the risk of any unwanted hissing before you release.
Unlike the other plugins we've mentioned above, meters don't do anything to your track. As the name suggests, meters are more of a way to meter the important variables of your project like loudness, gain reduction, frequency dispersion, etc. so that you can make the necessary changes to optimise your master.
What Order Should Plugins Go When Mastering?
There's no right or wrong answer to this — generally speaking — but one absolute thing is that you should always have a limiter (a true peak limiter ideally) as the final stage in your mastering chain. This is because a limiter's job is to stop any audio exceeding 0dB (which would introduce distortion in the form of clipping). If you introduce additional processing after the limiter, it can manipulate volumes again and reintroduce that unwanted distortion.
Other than this, the order in which you apply your mastering plugins is up to you and depends entirely on what you're aiming to achieve. The best advice we can give is to try experimenting with different processing chains to see what works best.
Is Compression Necessary for Mastering?
Compression is useful for mastering because it allows you to get more loudness (volume) out of your master without having to crank the limiter too hard and introduce lots of distortion. Combining one or more mastering compressors with a limiter in your mastering chain often results in smoother, more transparent results than using a limiter alone.
How Loud Does a Mix Need to be for Streaming Platforms?
The prevailing industry advice for a final master is for it to sit at -14 LUFS (Loudness Unit Full Scale) to perform best on streaming platforms. Your mix, however, should leave a little headroom for the mastering process, so we'd recommend outputting your final mixdown at a loudness level of around -23 LUFS.
If you're not familiar with the term LUFS, here's a useful article explaining it in full detail.
*Affiliates Disclaimer: KnowsAudio is supported by advertising. We may earn an affiliate commission for any purchases made by you on the affiliate links.