Best Guitar Kontakt Libraries in 2023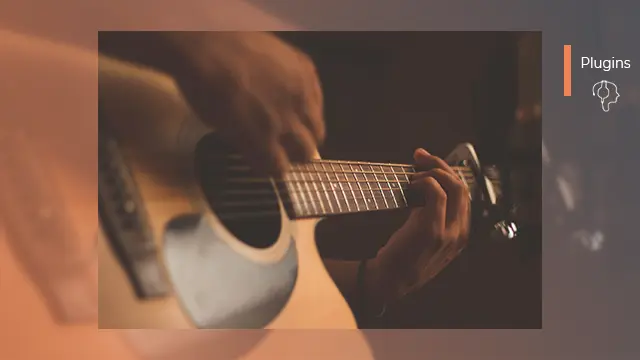 Are you tired of spending hours recording and editing guitar tracks for your music projects? Or maybe you're just looking for a practical and efficient way to add guitar sounds to your productions? That's where guitar Kontakt libraries come in.
In this article, we'll take you on a journey through the vast world of Kontakt guitar libraries, covering everything from electric guitars to acoustic, harps, ukuleles, and much more.
We'll provide you with a comprehensive list of the best guitar Kontakt libraries available, so you can easily find the perfect sound for your needs.
Before we jump into the list, here are some more specific categories that may interest you:
Best Guitar Libraries for Kontakt
Our team of experts tested each library, considering important factors such as sound quality, playing styles, user interface, ease of use, recorded variations, playing modes, and more.
So, without further ado, let's dive into our top picks for the best guitar libraries for Kontakt.

Best Electric Guitar Kontakt Libraries
Electri6ity by Vir2 Instruments is an excellent guitar Kontakt library that features eight electric guitars, covering various playing styles. The library also includes a variety of articulations, such as hammer-ons, pull-offs, and slides, allowing for a more realistic performance.
The library also comes with built-in effects and amp simulators, allowing for quick and easy processing of the guitar sounds.
Session Guitarist: Electric Mint
Session Guitarist Electric by Native Instruments is a fantastic Kontakt library that provides top-notch samples of electric guitars played in various styles. It boasts an extensive collection of 222 patterns that can be easily integrated into your compositions.
The library also includes 71 sound presets, giving you a range of options to choose from based on your needs. One of the standout features of this library is the comprehensive MIDI drag-and-drop functionality, making it easy to integrate the guitar sounds into your DAW.
Best Bass Guitar Kontakt Libraries
Scarbee Rickenbacker Bass
The Scarbee Rickenbacker Bass is a fantastic bass guitar Kontakt library, perfect for punchy rock and pop music.
This library features the iconic Rickenbacker 4003 bass guitar. It contains both Open and palm-muted articulations and offers a unique effect chain that allows you to shape and customize your sound.
Xperimenta XBass is a bass guitar library that contains 5 dynamic layers and 461 samples, providing a wide range of variations for creating dynamic and expressive basslines.
With a comprehensive set of effects such as parametric EQ, two types of distortion, and an amp & cabinet simulator, this library offers a wide range of tonal options and it's perfect for different genres such as pop, funky, jazz, and rock.
Best Acoustic Guitar Kontakt Libraries
Acou6tics is a comprehensive guitar Kontakt library that includes six different acoustic instruments: steel-string, 12-string, ukulele, nylon string, mandolin, and guitalele.
The library offers an advanced vibrato engine, as well as an innovative guitar noise engine that adds realistic pick, finger, and slide noises according to your playing style.
Overall, if you want to add some acoustic textures to your tracks, Acou6tics is a great choice.
Sketch Nylon is a great guitar Kontakt library for those who need a high-quality nylon string guitar sound. It comes with a MIDI pack that contains chord progressions to help you get started quickly.
This library features 14 articulations that can be easily controlled with a user-friendly interface.
Best Cinematic Guitar Kontakt Libraries
If you're looking for cinematic guitars for Kontakt, look no further than Apollo 2. This library offers a wide range of sounds straight from outstanding guitars, amps, and pedals.
With 3 dynamic layers, customizable LFO's and 5 powerful layer-able engines you have the ability to create a unique sound that fits your project perfectly.
Scoring Guitars 2 by Heavyocity features a collection of ambient and cinematic guitar sounds. It includes guitar drones, loop recordings of melodic pulses and phrases, pads, rhythmic pedals and performance palettes.
The library is designed to create soundscapes and emotive guitar textures and it includes over 5 GB of guitar content.
Best Harp Kontakt Libraries
The Grand Harp library contains six articulations, including Plucked, Fingernail, Prè de la Table, Xylophonique, Prepared and Harmonics, to create an incredibly versatile sound library.
This library offers a stunningly realistic representation of a grand concert harp, perfect for adding a touch of elegance to any piece of music.
The Elysium Harp is a Kontakt instrument that was created by Soundiron, a leading developer of virtual instruments and sample libraries. It's a 47-string grand concert harp that was recorded in delicate detail, using multiple microphone positions and a wide range of articulations.
Overall, the Elysium Harp offers a unique and ethereal sound that's perfect for music producers who want to add a touch of magic to their productions.
Best Ukulele Kontakt Libraries
Wavesfactory's Ukulele Collection comes with "Sturm" and "Finger" modes. The interface is user-friendly and intuitive, with controls for tuning, EQ, reverb, and more.
Whether you're creating folk, indie, pop or electronic music, the Ukulele Collection is an inspiring and versatile library.
The Ukulele library by Splash Sound offers a diverse range of articulations, making it a versatile and expressive tool.
The library contains 2.5 GB and it comes with built-in 24 strum patterns, single key chord selection in Strum mode, Volume and pan controls and built-in FX such as reverb, delay and compressor.
Best Mandolin Kontakt Libraries
Mandolin v1.5 offers an authentic and organic feel, perfect for adding natural mandolin sounds to your music productions. The library contains almost 1GB of content, including four articulations (plec, finger, vintage, strummed) that give you the flexibility to create different playing styles and techniques
In addition, Mandolin v1.5 includes various effects such as tremolo, chorus, cabinet, and vivid mode, which allow you to control the velocity of the notes and shape the sound to your liking. The library also features eight types of reverb, adding depth and space to your mandolin sound.
Advanced Guitar Series Mandolin
8Dio's Advanced Guitar Series Mandolin offers over 7,200 samples, totalling over 2GB of content. The library features a deep-sampled mandolin, with multiple articulations, sound effects, artifacts, and legato that provide incredible flexibility and realism in your playing.
The library also includes release and vibrato controls, allowing you to shape the sound to your liking. Overall, the Advanced Guitar Series Mandolin is a powerful library for producers looking to add authentic and realistic mandolin sounds to their projects.
*Affiliates Disclaimer: KnowsAudio is supported by advertising. We may earn an affiliate commission for any purchases made by you on the affiliate links.