Best Kontakt Drum Libraries in 2023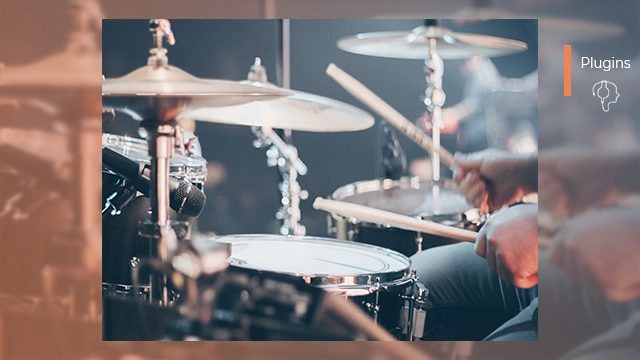 Are you tired of using the same drum samples in your music productions? Do you want to take your music to the next level with unique and high-quality drum sounds?
In this article, we'll explore the best Kontakt drum libraries that every music producer should consider using. We've got you covered from classic acoustic drum kits to experimental electronic percussions and more. Our experts have spent hours testing and reviewing various Kontakt drum libraries to bring you the top picks that inspire you to create fresh music.
Our top picks not only provide realistic drum sounds but also offer a wide range of customization options. You can tweak and fine-tune the sounds to fit your musical vision. Whether you're producing hip-hop, pop, rock, or any other genre, these Kontakt drums will help you achieve the perfect drum sound.
🔎 How We Select the Best Kontakt Drum Libraries?
When selecting the best Kontakt drum libraries, there are several criteria to consider. These include:
Sound quality – The sound quality of the drum library is essential for creating professional-sounding tracks. The best Kontakt drum libraries should offer high-quality, realistic drum sounds that sound authentic.


Compatibility with DAWs – The drum library should be compatible with all major DAWs, including Logic Pro, Ableton Live, and Pro Tools. This ensures that you can use the library with your preferred software.


Range of drum samples available – The library should offer a wide range of drum samples, including acoustic, electronic, and percussion instruments.


Ease of use and customization – The library should be easy to use and customizable, allowing you to create unique drum tracks quickly.


User reviews and ratings – User reviews and ratings can provide valuable insight into the quality and usability of the drum library.
If you want to discover more instruments and sounds beyond just drums, we've covered the best Kontakt libraries including orchestral, synths, vocals and more.

Best Kontakt Drum Libraries
Let's dive into the top Kontakt drum libraries. We guarantee that you'll find the perfect drum sounds to elevate your music and inspire your creativity.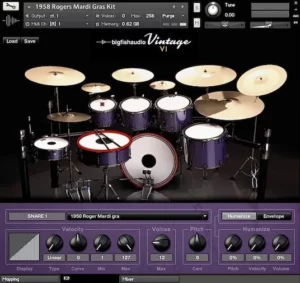 Vintage VI is a Kontakt drum library by Big Fish Audio that features classic drum sounds from the 60s and 70s.
The library samples were recorded from vintage drum kits, including Ludwig, Gretsch, Rogers, Slingerland, and more. The Vintage VI library includes a range of drum sounds, including kicks, snares, toms, hi-hats, and cymbals, all with a vintage feel and character.
The library is easy to use, with pre-made MIDI drum grooves and patterns, as well as a customizable mixer for adjusting the levels of each drum sound.
One unique feature of Vintage VI is its "Humanize" function, which adds a human touch to the MIDI drum patterns, making them sound more natural and less robotic. This feature is handy for producers who want to create a more organic feel in their drum tracks.
The Drum Circle is a sample-based drum library for Kontakt. The library includes over 6,000 drum samples, covering a wide range of percussive instruments. The samples are recorded in high-quality 24-bit resolution, and the interface provides a user-friendly platform for manipulating the sounds to fit your needs.
The Kontakt interface provides a variety of tools for customizing the drum sounds. You can adjust the envelope settings, such as attack and decay, to shape the sound to your liking. The library also includes a built-in EQ, reverb, distortion, tape machine, compressors and more effects.
Overall, the Drum Circle Kontakt Library is a versatile and high-quality drum library for Kontant that can bring a new dimension to your productions.
David Oliver's Drum Kit is a Kontakt-based virtual instrument that features a massive collection of drum samples recorded by legendary percussionist David Oliver.
The samples are recorded with a high level of detail and accuracy, capturing the unique character and tone of each drum kit. The library includes 5 mic positions, giving you complete control over the sound.
Overall, it is an excellent choice for producers looking for a versatile drum library.
Omnidrums is a drums library that features a vast collection of drum and percussion samples. The library is based on the Kontakt engine and includes over 50,000 samples, covering a wide range of drum types and playing styles.
From acoustic kits to exotic hand percussion, this library has everything you need to create dynamic and expressive percussion tracks.
If you're looking for a high-quality percussion library, the Omnidrums by Have Audio is definitely worth considering.
Bogren Digital Krimh Drums
Krimh Drums, developed by Bogren Digital, is a drums library for Kontakt that offers a wide range of drumming styles and sounds.
It features high-quality samples recorded by renowned Austrian drummer Kerim "Krimh" Lechner.
The drum samples are recorded in high-quality 24-bit resolution and feature multiple velocity layers and round-robin variations, ensuring that each hit sounds unique and expressive.
The library allows you to customize the sound to suit your specific needs. You can adjust the mix, change the velocity response, add effects, and more. The library also includes MIDI grooves, which can be used to create realistic drum parts quickly and easily.
Overall, Krimh Drums by Bogren Digital is an impressive virtual drumming library that offers exceptional value for its price.
If you're looking for a comprehensive cinematic percussion library that can add massive impact and energy to your music, Heavyocity's Damage 2 might be just what you need.
Damage 2 features a massive library of over 40,000 percussion instruments, ranging from traditional drums and cymbals to unique percussive and hybrid instruments.
The library includes multiple categories of instruments, such as impacts, kits, loops, and world percussion. The sounds are recorded in high-quality, with multiple microphone positions and round-robin variations for added realism.
Overall, we think it is a powerful tool for cinematic and trailer music genres.
Digital Revolution by Wave Alchemy is a virtual drum machine plugin designed for Kontakt. It features over 15,000 samples of vintage drum machines from the 1980s, including the Drumtraks, Drumulator, and the LinnDrum.
The sounds are perfect for retro and electronic music production. The library includes a range of mixing tools, allowing for even greater customization of the sounds.
Another great library from Heavyocity, the DM-307 combines a massive library of over 3,600 samples with a powerful engine that allows for extensive sound shaping and sequencing.
The library includes a range of acoustic and electronic drum sounds, as well as a wide range of percussive elements, from cinematic hits and impacts to glitchy noise textures and experimental soundscapes.
The sounds are organized into intuitive categories and can be easily customized and layered to create complex and unique drum kits. The library also includes a range of built-in effects, including distortion, reverb, modulation, delay, twist and punish (which adds more aggressive character to the sound)
Triaz by Wave Alchemy is a comprehensive and versatile drum machine plugin (that is also powered by the free Kontakt player)
Triaz includes a library of over 600 drum samples, as well as a range of sequencers, effects, and modulation tools. The plugin allows for extensive sound shaping and sequencing, with the ability to create complex and dynamic drum patterns and rhythms. The drum machine is suitable for a range of genres, from electronic and hip-hop to experimental music.
Abbey Road Drummer Collection
The Abbey Road Drummer Collection by Native Instruments is a powerful drums library for Kontakt that offers quality sounds and patterns.
Designed in collaboration with the legendary Abbey Road Studios, this collection includes over 200,000 samples and MIDI patterns from six different drum kits (The Vintage Drummer, 50s Drummer, 60s Drummer, 70s Drummer, 80s Drummer and Modern Drummer)
Play Series: Karriem Riggins Drums
Designed in collaboration with the renowned American producer and drummer Karriem Riggins, this library offers a range of drum kits, sounds, and patterns that are perfect for electronic and hip-hop music production.
The library includes 16 drum kits, from clean and organic tones to gritty and textured sounds that have been carefully sampled and creatively processed.
Native Instruments Studio Drummer
With over 3,300 genuine grooves, Studio Drummer provides a diverse groove library and powerful mixing and effects options.
You can find in the library three acoustic kits with a great selection of percussion instruments.
The library contains over 17 GB of high-quality, 24-bit drum samples that were professionally recorded at Teldex Studios in Berlin.
GetGood Drums Modern and Massive
Modern & Massive by GetGood Drums is a game-changing drum library designed for producers and musicians who demand powerful, realistic drum sounds. With its explosive ambience and clean, vibrant tones, this library is a must-have for anyone looking to create modern rock and metal music.
Cinesamples Drums of War 2
Drums of War 2 by Cinesamples is an epic cinematic drum library that sets a new standard for percussion sample libraries. With its thundering percussion and soaring melodies, this library is the perfect tool for composers, sound designers, and producers looking to create dramatic, high-impact music.
*Affiliates Disclaimer: KnowsAudio is supported by advertising. We may earn an affiliate commission for any purchases made by you on the affiliate links.