15 Best Kontakt Libraries for Trap & Hip Hop (Free & Paid)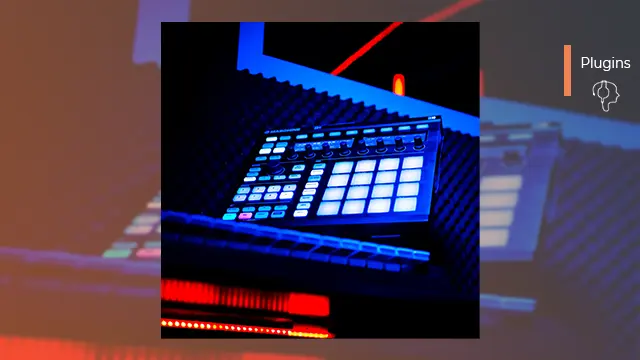 Are you a trap or hip-hop music producer looking for unique sounds to elevate your productions? Look no further than Kontakt libraries!
In this article, we will introduce you to the best Kontakt libraries for trap and hip-hop music production. From drum kits to powerful world sounds, 808s and synths – we've got you covered.
We'll explore the top Kontakt trap libraries so that you can choose the right one for your needs.
Best Hip Hop & Trap Kontakt Libraries
Our team at KnowsAudio handpicked and thoroughly tested the best Hip Hop & Trap Kontakt libraries currently available.
We considered the quality and variety of samples, the ease of use and customization options, as well as how well each library can be integrated into trap and hip hop productions.
Our selection includes libraries that offer everything from iconic 808 bass sounds to unique instruments and effects specifically designed for this genre.
So, without further ado, let's dive into our top picks.

Exhale is a vocal engine Kontakt library developed by Output. This library offers over 10GB of modern and creative vocal content, including male and female vocalists, choirs, pads, and ambient sounds.
This versatile library offers a unique approach to vocal samples, making it an essential tool for trap and hip-hop producers looking to add vocal elements to their productions.
Mosaic Keys is a Kontakt library developed by Heavyocity that offers a collection of modern and unique keyboard sounds.

This library features over 180 snapshots, each containing a set of custom-built sounds, from warm and mellow to gritty and distorted. You can layer sounds up to three different channels to create more modern textures.

Overall it's a great tool for trap and hip-hop producers looking for innovative and modern sounds to enhance their productions.
Another impressive Kontakt library from Output, SIGNAL is a powerful 'pulse engine' with over 40GB of analog synths, organic instruments, granular textures, and ambient pads, all designed to inspire creativity.
Whether you're looking for organic textures or gritty synth leads, SIGNAL provides an array of options to explore and enhance your productions.
If you're looking to add some exotic sounds to your productions, look no further than the Bansuri Bundle.
Featuring a range of Bansuri flutes, traditional Indian instruments known for their airy and breathy sound, the Bansuri Bundle provides a unique and distinctive texture that can add depth and interest to your productions.
If you're looking to add some unique soundscapes and textures to your productions, REV by Output may be just what you need.
This Kontakt library is specifically designed to create reverse sounds, making it an ideal tool for adding depth and textures to your productions.
Output ANALOG BRASS & WINDS
Analog Brass & Winds from Output is a Kontakt library specifically designed to bring the power and character of brass and wind instruments. The library contains 28GB of over 500 presets.
Whether you're looking for soaring horn sections, gritty synth brass, or haunting woodwinds, this library has you covered.
Sequence: Hip Hop Beat Creator
This library from Big Fish Audio is specifically designed for hip hop producers. It features a collection of over 4,000 samples including kicks, 808s, hi-hats, percussions, beatbox samples and more.
With Sequence, you can easily create custom beats and you can also use their custom sample shaping tools such as pitch editor, built-in effects and sample length editor.
All in all, Sequence is an excellent tool for creating professional-sounding beats. With its easy-to-use interface and high-quality samples, this library is sure to take your hip hop beats to the next level.
Substance, from Output, is a versatile bass instrument that offers a broad range of low-end sounds, perfect for any trap or hip-hop producer. This Kontakt library contains over 300 presets, including bass guitars, rumbling drones, subs, synths and more.
You can layer three sources of sound, and each preset can be easily customized with an intuitive interface that allows you to adjust the ADSR envelope, filter, saturation, and effects.
Overall, it's recommended for any producer looking to add some serious low-end to their productions.
Jade by Strezov Sampling is a Kontakt library featuring authentic Chinese instruments, perfect for adding an ethnic flair to your trap or hip-hop productions.
The library includes a variety of traditional Chinese instruments, including the Guzheng, Erhu, Dizi, and Sheng, among others.
Jade offers over 50 instruments presets, making it an excellent option for producers who looks for ethnic sounds.
Play Series: Cloud Supply
Cloud Supply is a Kontakt library designed by Native Instruments as part of their Play Series. This library is perfect for trap, drill and hip-hop producers who are looking for a wide range of unique and creative sounds to enhance their productions.
Cloud Supply features a diverse collection of over 125 sounds and 150 presets, ranging from smooth pads and lush textures to leads, mallets, organs, plucks and more.
With this 2GB library, you can easily create trap hooks and melodies.
This library features a powerful and versatile 808 bass engine, packed with 44 custom-made 808 presets.
The interface is simple and user-friendly, making it easy to tweak parameters like ADSR envelope, cutoff, reso, and distortion to get just the right sound.
Overall, it is an excellent choice for any trap or hip-hop producer looking to level up their 808s.
If you're curious about exploring more 808s, we've got you covered as well. We've put together a comprehensive list of the best 808 VSTs, so be sure to check it out.
Best Free Trap Kontakt Libraries
In addition to the libraries above, we've also covered the best free hip hip and trap Kontakt libraries. Despite being free, they still offer a range of high-quality sounds and features that can help enhance your trap and hip-hop productions.
Death Piano LE is the lite edition of the 'Death Piano' Kontakt piano library. This library features a distinctive, dark piano sound that's perfect for adding lovely textures to your beats.
The library offers a "Pay What You Want" option where you can access the lite edition for free. To unlock the full edition, which includes an expanded sample set and over 128 presets, a minimum payment of $10 is required.
Xperimenta Project's "Minima 2" is a free tool that contains a collection of instruments. This library offers a wide range of unique and high-quality sounds that can add a fresh perspective to trap and hip-hop production. You can find pianos, flutes, strings, basses and much more.
Trap Gods is a free Kontakt trap library that packs a punch with 66 high-quality samples designed specifically for trap music.
From booming 808s to catchy plucks and pads, this library has everything you need to create trap bangers.
Overall, the Trap Gods library is a great option to consider for trap music.
The Terry & Bells library is a free instrument from Cryptocipher that features multi-sampled solo and sound-designed Kontakt instruments. This Indian-inspired library includes elephant bells, guitar instruments and sound design patches.
*Affiliates Disclaimer: KnowsAudio is supported by advertising. We may earn an affiliate commission for any purchases made by you on the affiliate links.