Mac vs PC for Music Production - Which is the Best Choice?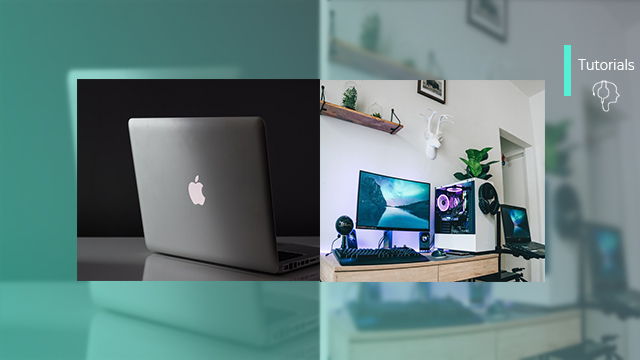 You're in the market for a new computer but not sure which is better – Mac or PC for music production?
This guide covers everything you need to know when deciding which option is best for you, so be sure to read each section before making your decision. But first, here's a quick rundown.
Mac vs PC for Music Production: Quick Take
If you're looking for something fast, reliable, and easy to use that can handle most of your music production needs, a Mac will probably work well for you. They're designed and optimized for creative workflows like music production, typically built to a higher standard, and are less susceptible to crashing and malware.
However, if you're working with a limited budget, you're likely to get much more bang for your buck with a PC, as you can often get the same specs for far less money. As music production can be quite an intensive process, you'll need the best specs you can get. You can easily fix and upgrade your PC over time, so you'll save money in the long term too.
System
Pros
Cons
Mac
• Runs Logic Pro
• Cutting edge tech
• More reliable components
• Better stability
• Faster workflow
• Less susceptible to viruses
• Far more expensive for the same specs as PC
• Expensive to repair
• Limited scalability
PC
• More affordable price point for the same specs as Mac
• Easy to upgrade over time
• Easy to repair
• Can be built to spec
• Less need for adapters
• Cheaper components can be less reliable
• Can be complicated to know which PC to buy
• More susceptible to viruses
• Bulkier builds
Most digital audio workstations (DAWs) are compatible with both Mac and PC – Ableton, Cubase, Fruity Loops, Reason, etc. Logic and GarageBand, however, are both only available on Mac.
So, unless you have your heart set on either of these Apple-owned programs, DAW support shouldn't be an issue.
Besides that, today you can find some great alternatives for GarageBand.
Most plugins are compatible with both Mac and PC. However, Windows users may have slightly more choice when it comes to the more obscure and less-known plugins. Code has to be rewritten to run on different operating systems, and because there are more PC users than Mac users, they tend to get written for Windows first.
However, there are also Mac-exclusive plugins, so it's worth checking your options first.
All Macs are manufactured by a single company so there is little deviation in how hardware needs to communicate. PCs usually have components from lots of different manufacturers. This means that, unlike Macs, PCs often need to have drivers installed before using new hardware.
However, whilst most PCs come with all the necessary ports for your devices. Macs often use less 'standardized' connections that make it necessary to buy additional adapters.
If you walk into any professional recording studio, you're more likely to find a Mac at the centre of their workstation than a PC. Macs are designed with creative workflows in mind and optimized for music production straight out of the box. They usually also take up less space so are likely to be less obtrusive if you're working with limited studio space.
However, if you plan on recording vocals or live instruments near your workstation, be aware that most computers have fans that can make a lot of noise — especially if you're running lots of intensive software. Unfortunately, there's no way around this with Macs, but if you can spring for a fully-liquid-cooled system on PC, you can eliminate it altogether.
Mac vs PC for Live Performance
Macs are generally considered to be more stable than PCs and less prone to crashing – the last thing you want to happen in the middle of a performance. That being said, instability issues are often the result of poorly optimized hardware. There's nothing to say you can't get the same reliable performance from a PC — especially one built from high-end components by a reputable specialist.

Why choose a Mac for Music Production?
They are industry standard
Macs are the standard for music production. They're built for creative workflows and optimized for audio. It's also the only system that supports Logic Pro – one of the industry's leading DAWs.
You get cutting edge tech (with newer models)
Because Macs are designed, manufactured, and distributed by a single company, they usually have the latest technology on the shelf much faster than any PC manufacturer. If you buy the latest Mac, you'll probably get tech that hasn't even made it to the PC market yet (though you'll certainly get a price tag to match).
When you buy a Mac, you can expect it to do most things well — and music production is one of them. There's no need to pull your hair out trying to figure out what components you need, what all the technical jargon means, and whether your final 'build' will actually work as intended.
Macs are designed specifically for a seamless creative workflow. MIDI controllers and audio interfaces will be plug and play, and you won't need to spend any time optimizing your new computer for audio.
Better stability (better for live performance)
If you're looking for a computer for live music, we'd definitely recommend a MacBook. While it does depend on the PC you get, people have reported poorer stability with PC than on Mac. The last thing you want is for your laptop to freeze halfway through an important set.
Malware is typically designed to hit the larger user base on PC. Macs are therefore less susceptible (though not immune) to viruses and other malware that could steal sensitive information or corrupt your precious project files.
Why choose a PC for music production?
Take any Mac, and you'll usually find you can build a PC with the exact same specs for far less money. PC users have the benefit of lots of different manufacturers and suppliers to choose from which means better value for money.
PCs are easy to fix, maintain, and upgrade
PCs also save you money in the long term. Because it's so easy to find and replace components, a good PC can be built on over time and easily and inexpensively maintained. If something goes wrong with your Mac or you need to upgrade it, you'll often need to buy a whole new computer.
You can have a machine built to spec
If you don't mind wading through all the technical jargon and doing your research (or paying a specialist to do it for you), you can craft the perfect PC that's built to take on anything you throw at it. Whilst Macs are generally high-performance computers that can handle most things, they can't always match the abilities of a custom-built PC that's designed for a specific purpose.
We hope that this guide has given you all the information you need to make a decision on whether you want to use Mac or PC for your music production workflow. Once you've made your decision, the next step will be to decide on the specific model or build that will work best for you.